CHRISTINA ATHINODOROU (b. 1981, Paphos, Cyprus) is a composer and conductor, who is active in a variety of artistic settings.
Her catalogue comprises more than fifty works ranging from Solo to large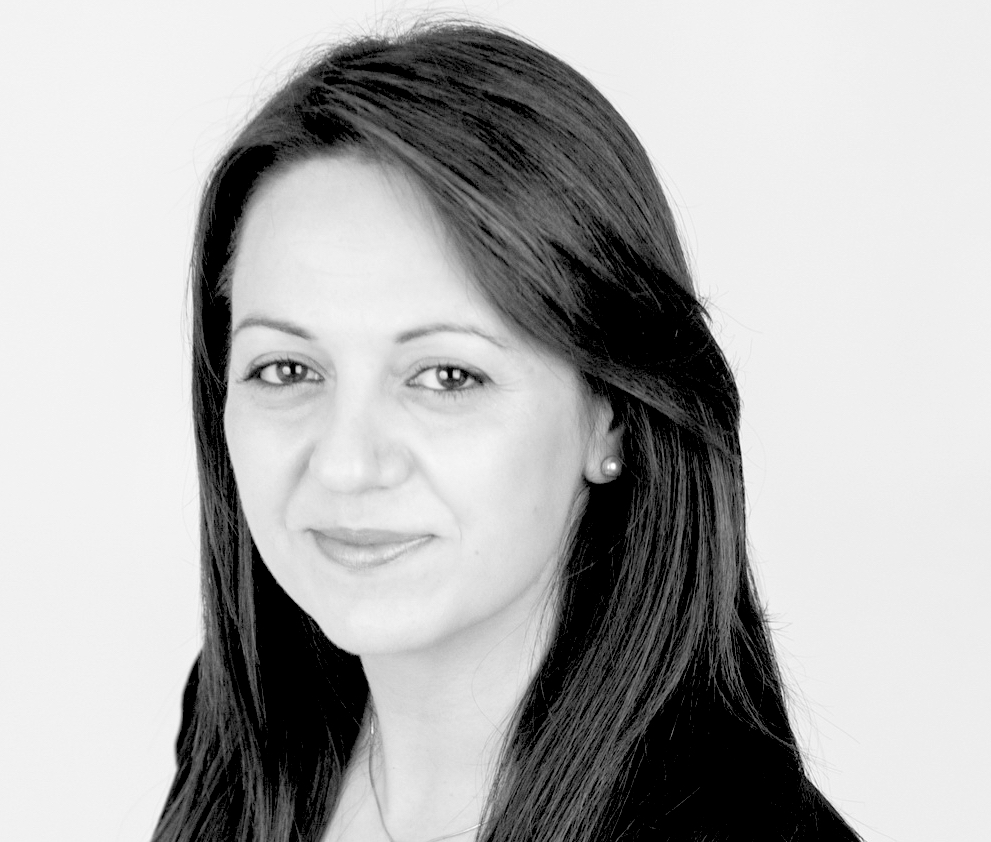 Symphony Orchestra, Vocal compositions, as well as electronic and incidental music. Her music has been performed in festivals, venues and concert series worldwide including the Grafenegg Festival, Venice Biennale, Salle Pleyel (Paris), Konzerthaus Berlin, Konzerthaus Vienna, ISCM World New Music Days 2013 and 2014,
Sound Festival Scotland, the Reading and Dartington Halls U.K., MITO Settembre Musica Italy, Musiikin Aika Festival Finland, Contemporary Encounters Festival Israel, DeFilharmonie Chamber Series Belgium, Onassis Cultural Centre Athens, and elsewhere.
Her works are regularly performed by orchestras and ensembles including the Orchestre National d'Île-de-France, Tonkünstler Orchester Niederösterreich, State Academic Symphony Orchestra of St Petersburg, Athens State Orchestra, Ensemble Aleph, Ensemble Reconsil, Ensemble L' Arsenale, Sentieri Selvaggi, Pierrot Lunaire Ensemble Wien, Endymion Ensemble with Richard Benjafield and Stephen Gutman, Moscow Contemporary Music Ensemble, Nomos Ensemble de Violoncelles, Neue Vocalsolisten Stuttgart, Meitar Ensemble, Elias String Quartet, Duo Disecheis, Ensemble BlauerReiter, conductors Pierre-André Valade, Alexander Titov, Yoel Levi, Jean Deroyer, Armando Merino and Paul Cosh, violinist Alda Dizdari, cellist Alexis Descharmes, accordionists Stéphane Puc and Timo Kinnunen, pianist Lefki Karpodini, clarinettist Cristo Barrios and others. She has been commissioned  by Musik der Janderhuderte, Pharos Arts Foundation, Pafos2017 European Capital of Culture (music director for the Opening Ceremony), Radio France, Amici di Sentieri Selvaggi etc. Her music has been broadcast on France Musique, BR-Klassic, CyBC and RAI3 Italy.
Awarded for her symphonic, chamber and vocal compositions internationally, Christina Athinodorou has received the 'Prix du Jury' and the 'Coup de Coeur du Public' in the first edition of the composition competition 'Île de Créations' in France 2013 (chair, Oscar Strasnoy), for her orchestral work Interméde pour une mer jamais vue, published by Éditions Durand; the Second Prize winner in the 1st "Jean Sibelius" Composition Competition organized in Finland (chair, Kaija Saariaho) in the choir composition category, with her work De l'Âme (March 2015);  a Panhellenic Prize in the Aristotle University Chamber Music Composition Competition (Thessaloniki 2005); the Aldworth Philharmonic Orchestra Young Composers Award (U.K 2006-7) which led to three commissions and performances with the composer conducting; the Second 'Premio GERMI' (Rome 2009); and a Finalist Diploma in the VI Composition Competition 'Prokofiev' (Russia 2012) for her work Alma for Solo Viola and Orchestra.
Athinodorou appears often as a conductor with orchestras and ensembles, presenting varied programmes that include both standard classical and contemporary music, as well as in collaborative projects. She has worked with orchestras and ensembles including the Tonkünstler Orchester Niederösterreich, Orquestra Sinfónica do Porto in Casa da Música, the Nederlands Symfonieorkest, Sinfonia Finlandia Jyväskylä, St Albans Symphony Orchestra, Aldworth Philharmonic Orchestra, London Sinfonietta, the IEMA Frankfurt with whom she has recorded for broadcast on SWR2, Cyprus Symphony Orchestra to name a few. She has conducted world premieres of contemporary composers at festivals including the Notting Hill MayFest, Avaton Contemporary Music Festival, London Contemporary Dance School and others.
Her work and studies have been supported by the Solti Foundation, Royal Holloway
(Research Scholarship), Cyprus Ministry of Education and Culture, SACEM, by the prestigious 'Dame Felicity Lott' Award (given to a promising young musician in the field of performance/conducting) and others. Further, she has held artistic residencies at the Cité des Arts in Paris (2009-10) and at the Centre d'Art Marnay-sur-Seine in France (April 2012).
Christina began her musical education in Cyprus and then studied at the Guildhall School of Music and Drama in London for five years, where she was a student of Julian Philips and Alan Hazeldine in composition and conducting respectively. Later she studied composition privately with Philippe Leroux in Paris. She also took summer courses in  composition with Philippe Hurel, Unsuk Chin, Joshua Fineberg and Philippe Leroux at the  Composit New Music Festival in Rieti and at the Centre Acanthes in Metz. Alongside composition, she has been invited as an active participant in Masterclasses in Orchestral Conducting with Jorma Panula, Mark Shanahan and Lothar Zagrosek (Ink Still Wet); and in Ensemble Conducting with focus on contemporary music with  Zsolt Nagy, Peter Eötvös and Pierre-André Valade.
A PhD holder (Royal Holloway University of London, under the supervision of  Michael Zev Gordon) Christina Athinodorou regularly gives seminars and courses in collaboration with different institutions, including the London College of Music, and  since 2012, the European University Cyprus. A freelance artist, she divides her time between Cyprus, Paris and London.