Biography
Composer CHRISTINA ATHINODOROU (b. 24 April 1981, Paphos) is increasingly rising into international prominence, with a catalogue of more than sixty compositions to date, written for instrumental, chamber, ensemble, vocal and orchestral forces. Developing a highly personal language, her music suggests her strong preoccupation with musical pacing and the harmony of movement, coming from an array of influences including contemporary approaches to timbre, extended techniques, and almost inevitably by the rich Mediterranean and Hellenic traditions, including drama, prosody and microtonality.
Regularly performed in Europe and beyond, her music has been described as "atmospheric, strangely fascinating", "enchanting" and "substantial" by international press, and broadcast on BR Klassik, Ö1, CyBC, RAI3 and France Musique. Her compositions have been featured in festivals and venues such as the Biennale di Venezia, MITO Settembre, ISCM World New Music Days 2013 and 2015, Onassis Cultural Centre Athens, Musikprotokoll Graz, Music Biennale Zagreb, deFilharmonie Chamber Series, Salle Pleyel, Konzerhaus Berlin, the Grafenegg Festival and the Festival d'Aix-en-Provence.
Her music has been performed by distinguished orchestras such as the Tonkünstler Orchester Niederösterreich, Orchestre National d'Île-de-France, State Academic Orchestra of St Petersburg, Athens State Orchestra, Sinfonia Finlandia Jyväskyla and the Orchestre des Jeunes de la Méditerranée to name a few.
She has also worked with some of the most important ensembles and soloists of our time, such as Sentieri Selvaggi, Ensemble Aleph, Ensemble BlauerReiter, Ensemble Reconsil, Het Collectief, DissonArt, Klangforum Wien, Nomos Ensemble de Violoncelles, Neue Vocalsolisten Stuttgart, Elias String Quartet, Alda Dizdari, Alexis Descharmes and others. Her music has been championed by conductors such as Pablo Heras-Casado, Pierre-André Valade, Roland Freisitzer and Jean Deroyer.
Christina has collaborated with artists from other fields including the choreographer Jamie Boylan (In Vein), while, as the director of her Ensemble Cyclamen, she has initiated interdisciplinary projects such as the cine-concert entitled "Re:Mains" with the animator Charalambos Margaritis, and more recently, the peripatetic concert-photo exhibition "Achroon-Aosmon" with eight photographers from Cyprus, Romania and Greece basing their work on her music.
Athinodorou has received international awards for her music in competitions including the Prix du Jury and the Coup de cœur du public for her symphonic work Intermède pour une mer jamais vue and published by Durand in the 1st Île-de-Créations Competition 2013 in France; the 2nd Prize in the 1st Sibelius competition in Finland 2015 for her choral work De l'Âme; an honorable mention for her Alma for Viola and orchestra in the 6th Prokofiev in Russia in 2012; and the Young Composer's Award of the Aldworth Philharmonic Orchestra Young 2006-7 in England. Her work has been supported by commissions from institutions and organisations including Radio France, Musique Nouvelle en Liberté, Amici di Sentieri Selvaggi, Musik der Jahrhunderte, Pafos2017, Pharos Arts Foundation, Onassis Stegi, La Monnaie/De Munt and others.
Christina also appears as a conductor she shows a particular interest in combining the standard repertoire with 20thc. music and contemporary creations. She has worked with the Orquestra Sinfónica do Porto, Nederlands Symfonieorkest, Cyprus Symphony Orchestra, Jyväskylä Sinfonia Finlandia («comfortably, yet intensively interpreted»), Manchester Camerata and the London Sinfonietta amongst others. She has also directed new music with the Moscow Contemporary Music Ensemble, the Southampton University Winds, the dissonArt Ensemble, the Ensemble Cyclamen etc. She has received the Dame Felicity Lott Bursary destined for "a promising emerging musician in the field of performance (conducting)", and her work has been enhanced by the advice of important maestros of our time including Mark Shanahan, Jorma Panula, Peter Eötvös, Lothar Zagrosek, Mark Heron and Clark Rundell among others.
Christina is currently based in Cyprus where she initially began her musical training. She then moved to London to study composition with Julian Philips and conducting with Alan Hazeldine at the Guildhall School of Music and Drama in (BMus,MMus). In parallel, she studied byzantine music. Upon completing her PhD at the Royal Holloway with Michael Zev Gordon, she went on to study composition privately with Philippe Leroux in Paris. She also took courses at the UNT, CNSMD de Lyon, in summer academies (Acanthes, Rieti etc), and IRCAM. Further, she has been a resident composer as an ENOA Artist at the Théâtre de La Monnaie in Brussels, the Festival d'Aix-en-Provence, Queen Elisabeth Music Chapel in Waterloo, as well as at the CAMAC in Marnay-sur-Seine and the Cité des Arts in Paris.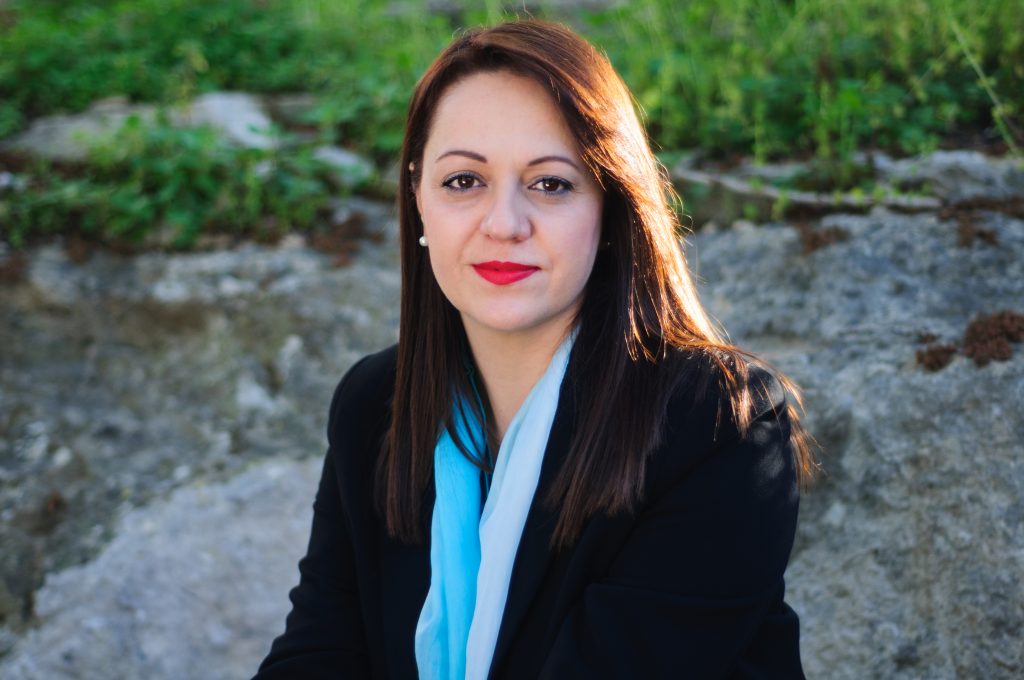 **********************************
For music samples on Soundcloud page, click here