Biography
Increasingly rising to prominence on the contemporary music landscape, Christina Athinodorou (b. 24 April 1981, Paphos) is a composer who is developing a profound and highly personal language.
Described as "atmospheric, strangely fascinating" and "captivating" by international press, her music is marked by her strong preoccupation with pacing, with the harmony of movement and the treatment of light, while it integrates an array of influences including contemporary approaches to timbre, extended techniques, and selective elements from the Mediterranean and Greek heritage, including drama, prosody and microtonality.
Her catalogue comprises of more than sixty compositions to date, written from solo to orchestra, for vocal, instrumental and electronic forces, interdisciplinary projects, music for the stage and opera.
Her music has been presented in prestigious festivals such as the Venice Biennale, Grafenegg, Festival d'Aix-en-Provence, MITO Settembre Musica, ISCM World New Music Days,Wien Modern, Musikprotokoll etc, and performed by ensembles and orchestras including the Tonkünstler Orchester, Athens State Orchestra, Orchestre National d'Île-de-France, Orchestre de Jeunes de la Méditerranée, Ensemble Aleph, Ensemble C Barré, Klangforum Wien, Het Collectief, Neue Vocalsolisten Stuttgart, Meitar Ensemble, Elias String Quartet, Ensemble Reconsil, Nomos Ensemble de Violoncelles etc. Her music has been championed by conductors such as Pierre-André Valade, Pablo Heras-Casado, Roland Freisitzer and Jean Deroyer.
She has received commissions from Radio France, Musik der Jahrhuderte,  Onassis Stegi, Pharos Arts Foundation, Amici di Sentieri Selvaggi and others. During the difficult period of lockdowns, she composed the vocal drama Ma Mèr(e) Méditerranée (2019-20), a commission by the Opera La Monnaie/De Munt, Brussels, followed by Thou Art with Me for Solo Violin, commissioned by the Code Modern Festival in Germany. More recently, she completed Un Silence Extraordinaire for choir and five musicians, a commission by the Festival d'Aix-en-Provence, France.
Her music was broadcast by BR Klassik, Ö1, CyBC, RAI3, ERT Trito and France Musique. She is also the recipient of composition awards and honorable mentions  (Île-de-Créations 2013 France for her symphonic Intermède pour une mer jamais vue; Sibelius 2015 Finland for her choral work De l'Âme; Prokofiev 2012, Russia for her Alma for Viola and orchestra; the Aldworth Philharmonic Orchestra Young Composer's Award 2006-7, England).
Christina occasionally appears as a conductor too. Equally at home with the symphony orchestra  and the contemporary ensemble, she has collaborated with the Orquestra Sinfónica do Porto, Nederlands Symfonieorkest, Cyprus Symphony Orchestra, Manchester Camerata, London Sinfonietta, Moscow Contemporary Music Ensemble, DissonArt etc. She has led world premieres of many works including her own her Quatre Silences with the Jyväskyla Sinfonia Finlandia in the festival Musiikin Aika ('comfortably, yet intensively interpreted'), her Votrys with the Tonkünstler Orchester Niederösterreich at the esteemed Grafenegg Festival. Besides she has collaborated with artists from other fields including the choreographer Jamie Boylan (In Vein), while, as the director of the Ensemble Cyclamen, she has initiated innovative interdisciplinary projects such as the cine-concert entitled "Re:Mains" with the animator Charalambos Margaritis, and more recently, the peripatetic concert-photo exhibition "Achroon-Aosmon" with eight photographers from Cyprus, Romania and Greece who based their contribution on her music.
She is frequently invited as a guest composer to give seminars and workshops in institutions such as the London College of Music, the Royal Holloway etc. Between the years 2012-18 she taught at the European University Cyprus. Also she often serves as a jury member for composition competitions (Italy, UK, Cyprus…)
Born in 1981 in Cyprus where she began her musical training as a pianist and flutist, Christina started to compose from a very young age. She is a graduate of the Guildhall School of Music and Drama in London and later she completed a doctorate in composition at the Royal Holloway University of London. She also took composition courses at the UNT, CNSMD de Lyon, Centre Acanthes, ΙEMA Frankfurt, and IRCAM, and read Byzantine music. Her most important composition teachers were Julian Philips (GSMD 2000-5), Michael Zev Gordon (RHUL 2007-10) and Philippe Leroux (composition courses at Rieti 2013, Tel-Aviv 2015 and private lessons in Paris 2012-17). She also followed summer courses with Philippe Hurel, Unsuk Chin, Joshua Fineberg and others. In parallel, she studied conducting in the class of Alan Hazeldine, as well as with Mark Shanahan, Peter Eötvös, Sian Edwards, Lothar Zagrosek and Jorma Panula, in various masterclasses around Europe.
Christina is an invited ENOA artist. She was also composer-in-residence at the CAMAC, the Queen Elisabeth Music Chapel, Belgium, and at the Cité des Arts in Paris.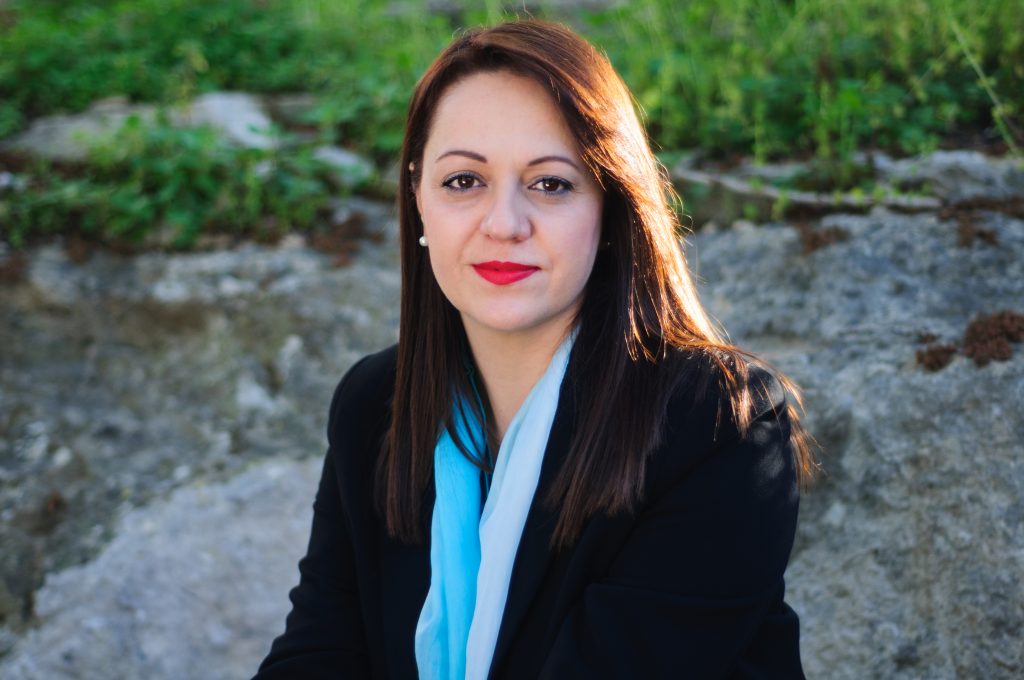 **********************************
For music samples on Soundcloud page, click here