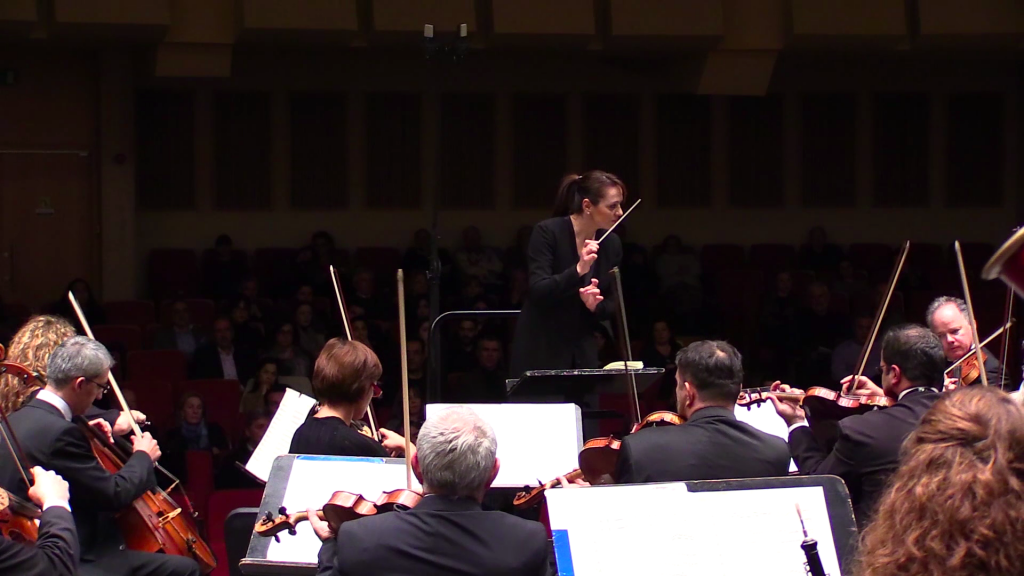 Christina Athinodorou appears as a guest conductor with diverse ensembles and orchestras, in different artistic settings.
Drawn by the symphonic sound as a unique tradition, but also caring in approaching it through a contemporary lens, she has a particular interest in combining the standard repertoire with 20thcentury works and contemporary creations, but also in creating new concert forms and well-designed programmes.
Christina has conducted the Tonkünstler Orchester Niederösterreich (eg Athinodorou), London Sinfonietta (eg Maxwell Davies), Nederlands Symfonieorkest, Orquestra Sinfónica do Porto Casa da Música (eg Ives), Sinfonia Finlandia Jyväskylä (a "comfortably, yet intensively interpreted" performance), Manchester Camerata, Cyprus Symphony Orchestra (eg world premieres of Cypriot composers), Aldworth Philharmonic Orchestra, St Albans Symphony Orchestra, Moscow Contemporary Music Ensemble and others. She has also appeared in concerts with the Southampton Wind Orchestra, the Royal Holloway Sinfonietta (eg Messiaen's Oiseaux Exotiques), the Notting Hill MayFest and Avaton Contemporary Music Festival resident ensembles to name a few. Also, she has led new music and dance performances at the London Contemporary Dance School, and she recorded for the SWR with the musicians of the International Ensemble Modern Akademie Frankfurt, as well as for the Soundscapes Compositions project with the DissonArt Ensemble in Thessaloniki, a project co-funded by the Creative Europe program of the European Union.
Among other premieres, Christina has conducted the country premiere of Poulenc's Aubade with the Cyprus Symphony Orchestra and pianist Annini Tsiouti, and directed the very first performance of Terry Riley's In C with music students of the European University Cyprus on the island. She is the founder and Music Director of the project-based and contemporary music-oriented Ensemble Cyclamen, while she continues to appear as an invited conductor with orchestras around Europe.
A recipient of the Dame Felicity Lott Bursary 'for a promising performer' (2010), Christina Athinodorou studied conducting with the late Scottish conducting pedagogue Alan Hazeldine at the Guildhall School of Music and Drama in London. In the frame of Masterclasses her work has been enhanced by the advice of important maestros of our time, such as Jorma Panula, Mark Shanahan, Mark Heron, Clark Rundell, Lothar Zagrosek, Zsolt Nagy, Peter Eötvös and Pierre-André Valade.